About the Facility
Instruments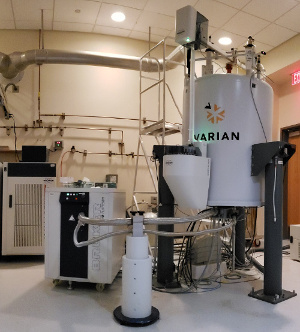 The SSPPS NMR Facility houses our 600 MHz nuclear magnetic resonance spectrometer, npa600. The instrument consists of a Magnex 54 mm bore superconducting magnet operating at 14.1 Tesla, a Bruker Avance III console and a Bruker cryoplatform. Bruker TopSpin 3.6.0 software is used to control the spectrometer.
NPA600
Our natural products optimized instrument is generally fitted with a 1.7 mm inverse detection triple resonance (H-C/N/D) cryoprobe with z-gradients. Sample tubes for this probe require just 35 microlitres of solution. In mass-limited situations this enables higher sample concentrations to be prepared, increasing sensitivity 14-fold compared to the standard 5 mm sample tubes. Combined with the sensitivity increase due to cryogenic cooling of the detection coil and preamplifier this instrument provides excellent sensitivity for mass-limited samples. The instrument has three channels and is generally configured for
1
H and
13
C detection (with
2
H lock) but can be reconfigured for
1
H and
15
N detection.
Other probes
Other probes available at the Facility include a 5mm inverse detection triple resonance (H-C/N/D) cryoprobe wth z-gradients, a Protasis CapNMR inverse carbon gradient probe for analysis of tiny sample quantities, and a 5mm room temperature broadband inverse probe with z-gradients for detection of heteronuclei over the frequency range spanning from
31
P to
109
Ag.
Staff
Director
Dr Brendan M. Duggan has more than 25 years of experience in small molecule and protein NMR. He started his career in NMR in Australia managing the NMR facility at the Biomolecular Research Institute for Ray Norton, then completed a PhD at the Victorian College of Pharmacy with David Craik. Moving to the US he undertook postdoctoral studies with Peter Wright at The Scripps Research Institute, before switching to industry where he was a co-author on over 70 patent applications at Incyte Genomics. Before joining UCSD he managed the NMR facility at the Medical University of South Carolina in Charleston SC.
Resume via LinkedIn
Publications via Google Scholar
Section 'Sub' Navigation: